The cost effective and eco sustainable alternative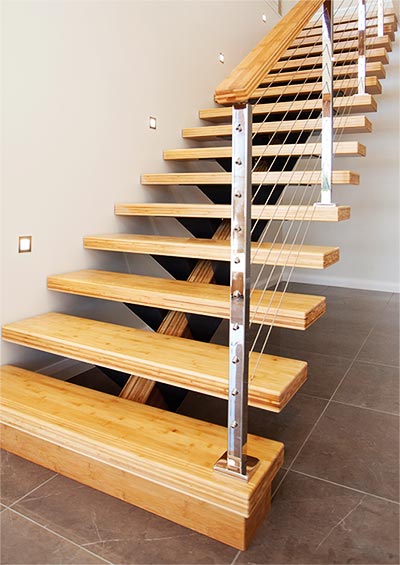 Logan Leigh are proud to offer our beautiful and competitively priced Bamboo mono-stringer staircases that are and eco-friendly alternative to steel fabricated staircases. They made an immediate impact when exhibited at the HIA Home Show.
Supporting the staircase is the mono stringer beam which is a first for the Australian market and was developed in conjunction with the Engineering testing facility at Newcastle University.
Our adjustable bracket system allows for variable staircase pitches
Logan Leigh designed and patented the stylish steel bracket system that supports the Bamboo treads onto the mono stringer beam.
We Can Custom Supply to your Needs
STAIR TREADS AND BEAMS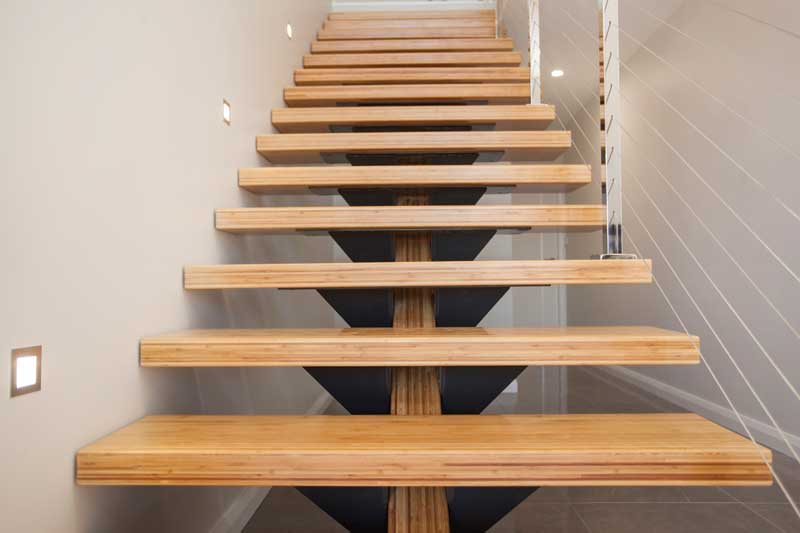 Standard Bamboo stair treads are supplied as 60mm thick by 260mm-300mm wide and up to 1200mm in length. The staircase beam is 250mm by 118mm up to 5m in length with the choice of 3mm or 6mm round over edges. Custom dimensions can also be quoted.
For more complex designs, Logan Leigh can quote and supply the stair treads and beams bare sanded without the edges and holes done, allowing your builder or carpenter to construct the staircase on site.
BRACKETS (PATENT PENDING)
All Stair tread mounting brackets, bugle head screws and bolts are supplied painted and available in a choice of four colours: black, white, grey/beige and olive brown, or Logan Leigh can custom colour the brackets to your choice (at extra cost). Included also are the painted top and bottom beam mounting brackets along with the first step fabricated bamboo mounting bracket.
FABRICATION
Logan Leigh will supply the stair treads and beams fabricated not polished, exactly to your specifications. For mono stringer one (1) landing staircases, all beam angles and beam mounting plate grooves will be in place.
FINISHING
All bamboo treads and beams are supplied fabricated not polished. Separate quoting is required if you require bare sanded just ask us!
BALUSTRADING & LANDING
Logan Leigh can quote and supply Bamboo posts, handrails and landing; alternatively stainless steel or glass balustrades can be arranged through your local supplier.
ALL COMPONENTS CAN BE SOLD SEPARATELY TO SUIT YOUR NEEDS
For Example, you may only need the Bamboo Treads, we can supply.
FURTHER INFORMATION
For your new project, please supply Logan Leigh with your exact sizing to initially provide you with a quote. A formal set of plans will be required prior to production commencing. The staircase design must comply with the Building Codes of Australia.
Your new project begins here. Request a quote today.