Our kitchen cabinet doors and drawer fronts are supplied throughout the NSW Mid-North Coast to the kitchen and joinery industry.
Logan Leigh manufacture on 18mm White Satin MDF and coated in high quality Two-Pack paint finish.
We have many different profiles, here is just a few samples:
Samples:
Colours Available
Standard colour is Evic White. All other colours can be matched as well, providing we have the sample.
We can supply any colour off the Dulux colour chart.
Finish
Gloss, Satin, Matt and Texture.
Profile Edges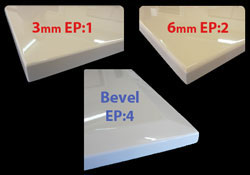 EP1: 3mm P/Round
EP2: 6mm P/Round
EP3: Thumbnail
EP4: Bevel Edge
Door Ranges
Series 1 Range
3mm – 6mm – Arris
Series 2 Range
Thumbnail – Bevel – Bahtoo – Pindara – Macquarie – Morton
Series 3 Range
Edinburgh – Barton – Victoria – Tasman – Alban – Manning – Muldoon
Series 4 Range
Oxley – Henry Flett – Commerce – Coolabah
Bring your cutting lists in and show us!
Free quotes are available by bringing your cutting list into our showroom, emailing or faxing them to us. The price will vary according to door series, colour and finish.
Come into our showroom and view the doors we have on offer for you, in a wide range of colours. There are also additional custom doors on display.
We use the top quality paints from EVIC.