For a wonderfully warm natural option, consider timber benchtops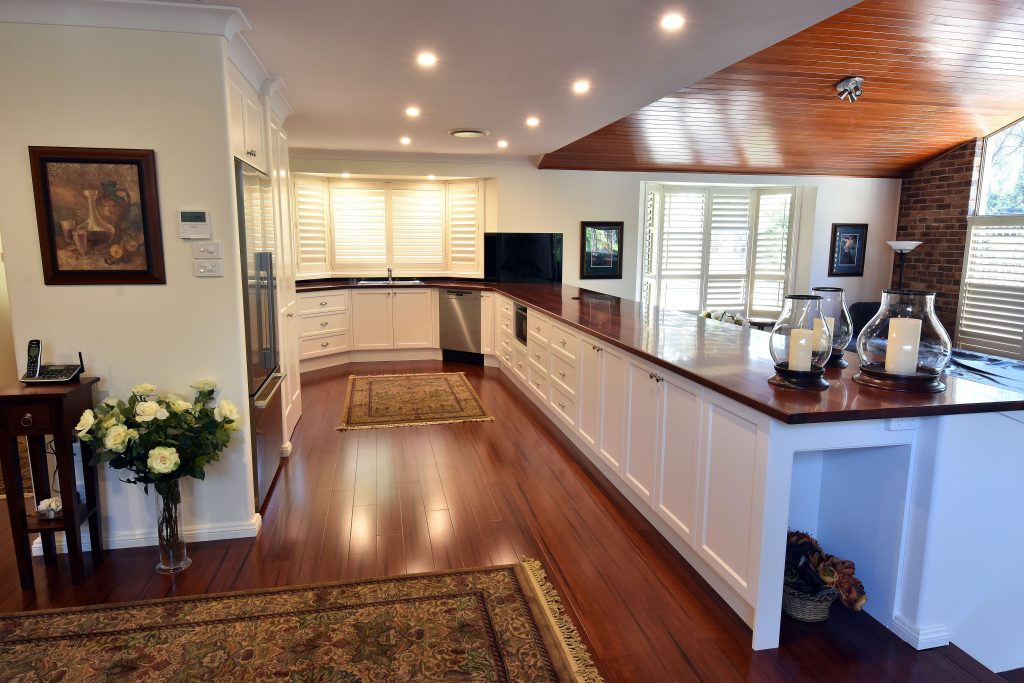 There are so many options available, subject to availability – from Ash, Spotted and Blue Gum, to Jarrah, American Oak, Tasmanian Oak and Blackbutt  to a variety of other species. Alternatively Logan Leigh can supply recycled hardwoods which will result in desirable; functional and enduring timber benchtops.
You can choose a timber that's native to your area, something that's environmentally friendly or a classic high-end timber.
These days bamboo benchtops from Logan Leigh are also becoming popular for its beauty and timber-like characteristics.
Some interesting points:
Wood is obviously a softer material than any of the stones or synthetics.
You'll need to watch for cuts and gouges – and, of course, burns. It is a good idea to use chopping boards
Well-cared for timber benchtops age beautifully and small nicks and marks can actually add to the character. Timber can also be sanded back and refinished to repair most issues.
Logan Leigh benchtops feature in some of Australia's most famous buildings.
Over more than 30 years we have distributed over 15,000 custom timber benchtops throughout  NSW, QLD and VIC, to residential homes, commercial offices, wineries, hotels, pubs and restaurants. These include custom timber bench tops in the Sydney Opera House, The Packer's Polo Stud, Hunter Valley and the Sydney Dance Company to name just a few.
Logan Leighs successful track record over 30 years in the fabrication and polishing of quality hardwood bench tops makes us a credible and reliable supplier.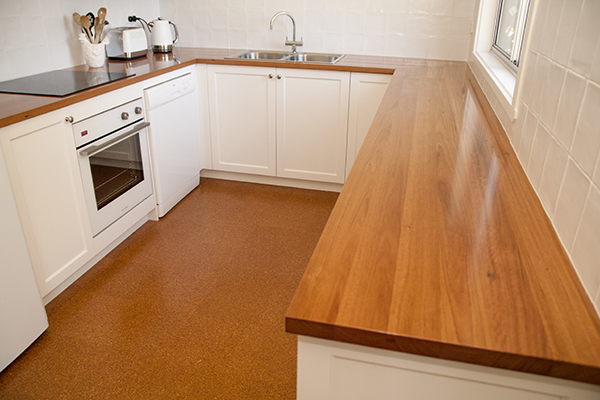 Logan Leigh also offers a unique custom timber bench top service
Do you have a great piece of timber you would love to use as a benchtop? Or do you have a dream of the perfect bench top in the timber of your choice?
Logan Leigh can use a slab of timber supplied by you to create your perfect kitchen, bathroom, bar or commercial bench top. Depending on what you are after, Logan Leigh may be able to supply timber of your choice or mixed recycled hardwood to make glulam tops.
Logan Leigh will sand, cut to size and finish the timber tops ready to be installed by your installer.
Timber bench tops can be created by Logan Leigh with the following choices:
Sanding, fabricating and polishing to your bench top plans (ie correct lengths and/or sink or stove-top cut outs).
Or fabricated not polished.
Bare sanded slabs.
Or stained – to your preferred colour.
Kitchen, Bathroom, Laundry and Bar Area timber benchtops are made to measure and can be fabricated to any shape.
All finished products have 3-4 coats of Evic two pack polyurethane, available in 15% gloss or 30% gloss.
Maintaining a Timber benchtop:
It's important that your timber benchtop has been sealed well to prevent staining and water damage. You've probably seen timber benches where water has seeped in and turned the timber a dark grey/black.
Polyurethane varnish or oil sealants provide protection against both stains and water damage. As mentioned earlier Logan Leigh use the best quality Evic sealants What you choose really depends upon what finish you're looking for – glossy with the poly, or a more natural and matt effect with a wood oil.
When sealed correctly, timber benchtops are easy to care for. What you use to clean the surface will depend on what sealant was used, so make sure you're aware of the best and most suitable product and recommendations from the sealant manufacturer.
Is a timber or recycled
hardwood benchtop the right
design solution for your new
project? Get in touch with us
and share your creativity.
Logan Leigh can supply direct to the trade or the public and all timber benchtop orders are fully wrapped in protective foam and packed in crates to ensure safe transport to all Eastern Australian states.
It is easy to enquire here today or Request a quote for your new project and you will receive the further supply information necessary to answer your queries.
If you would like to have a chat call us on 02 65515022 Monday to Friday 8.00am to 3.30pm
The finished surface is superb